Anacostia Community Museum
WRITTEN BY SOLANE NEMERA | OCTOBER 2019
The Smithsonian Anacostia Community Museum re-opened after months of renovation and YouthBuild students were honored to be some of the first people to experience the new exhibit. Students received the opportunity to learn about the long history of segregation, white flight, and gentrification in Washington DC. Becoming aware of the progression of prominent cities in the district and the simultaneous decline of cultural areas such as China Town, and Anacostia was an eye-opening experience. We also had the opportunity to hear many stories of the African American, Asian, and Latino communities fighting for equality. Students left this trip feeling enlightened and inspired. Anacostia is a must-see for DC natives, and newcomers alike because it provides a deeper understanding of the nations capitol.

WRITTEN BY SOLANE NEMERA SEPTEMBER 2019
Our goal at YouthBuild is to help our students find their path to success after earning their GED, whether that means furthering their education, or transitioning into vocational work. Throughout the year, students who express an interest in post-secondary education, are provided with the opportunity to visit local Colleges and Universities. This month, students toured the Howard University campus and learned about the HBCU's many opportunities and rich history.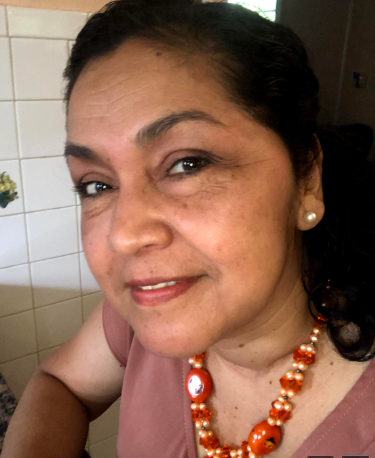 Staff Spotlight: Eugenia Reyes
Written by Brittany North | July 2019
Eugenia Reyes, also known as "Ms. E" to students and staff, has served YBPCS as a teacher for seven years. During this time, Ms. E has taught a variety of subjects, such as reading and language arts, special education, science, history, and English as a Second Language. Ms. E is committed to YBPCS because she loves the work it accomplishes for DC youth. She explains, "It is a place where staff are valuable resources to our student population. Being a teacher is a big opportunity to serve and help our students to grow and become someone better."
Looking back on her history with YBPCS, Ms. E reflects, "Every year is an opportunity to make new memories, but I can say Mental Toughness week [the first week of the year for students joining YBPCS to get acclimated to the school] is my favorite. When I first came to YBPCS, part of Mental Toughness week included a team-building outdoor activity. We along with all the students had to go through fun group challenges. It was right then and there that we became a team and established a very strong teacher-student relationship that kept building in the classroom throughout the rest of the year. I also treasure the memories of my students who graduate and those who are no longer with us."
Ms. E has been a teacher for 27 years and has taught at many different grade levels, including Pre-K. At YBPCS, her favorite subject to teach is the Civil Rights Movement because "As an activist, I love to teach anything related to human rights, justice, and peace." Students learning about powerful displays of civic duty and engagement is an important cornerstone within YBPCS' school culture.
Living in DC since 1999, Ms. E quickly learned to love her neighborhood. As she explains, "The multiculturalism in this small city is unique, and the varieties of food from all over the world is exquisite. DC became the home where I was able to stay with my family, raise my children and grandchildren, and serve my city through my career as an educator."
YBPCS greatly appreciates the time and service teachers and staff devote to students. Ms. E has contributed astronomically to the success and personal development of many students who walk through the halls at YBPCS. Thank you, Ms. E, for your many years of contribution at YBPCS!
YBPCS' Construction Department has been featured on Telemundo DC!
Click here in order to watch the full video.
The Little Library Project
YBPCS celebrates AmeriCorps Week with promoting literacy throughout DC
Written by brittany North | April 2019
Every year around the second week of March, AmeriCorps celebrates its members' commitment to serving their communities all over the United States with AmeriCorps Week. YBPCS' State and National AmeriCorps members participated in AmeriCorps week through making a "little library" where DC community members can take free books from at any time. What is special about the YBPCS little library is that it combined YBPCS' Transitions department, Construction department, and students' efforts in coordinating and constructing the little library.
The little library project was planned in three stages: Building the two boxes (the upper one is for adult books and the lower one is for children's books), putting said boxes on the wooden pole, and then painting/installation. Some experienced AmeriCorps students took the lead in completing these steps, like Dontre Tucker, who used his construction skills from what he has learned at YBPCS to properly assemble the little library boxes on the wooden pole.
There are many benefits to placing a little library outside of YBPCS' campus. It promotes learning and literacy within among DC community members. It also shows that YBPCS is dedicated to engaging with the outer DC community and in reinforcing our students' sense of ownership within the DC community as well.
Building and installing the little library was not the end of the project. Because of the continuous, generous donation made by the Library of Congress, YBPCS students are able to pick books to go into the little library that means something to them and that they want to share with the outer community. Students write personal notes in the books placed in the little library in order to make a stronger connection with the community member that picks up the book!
So, come by YBPCS' campus and pick out a book day or night, rain or shine!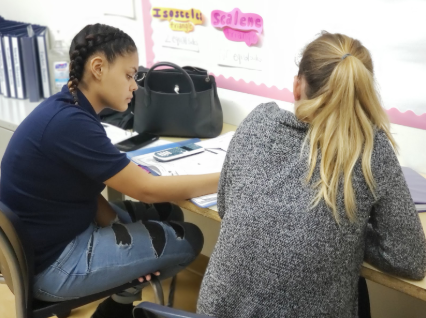 Pictured: Bessie Gonzalez, recent GED graduate, being tutored by DC volunteer, Katie Williams.
Written by Brittany North | March 2019
An important part of daily life at YBPCS is the tutoring program that provides one-on-one instruction to students by local volunteers in order to increase their understanding of subjects on the GED. 20+ community volunteers have been recruited to tutor YBPCS in students in GED subjects and career readiness. For example, throughout the one-hour tutoring session, a student may practice solving linear equations to learning American history with a tutor. You can also find students and volunteers working on building their resume or filling out job and college applications.
YBPCS' tutoring program has proven to be impactful and successful in helping our students improve their scores on pre-GED assessments. From September 2018 to February 2019, 17% of YBPCS students have received a total of 65 hours of instruction from tutors. The majority or 76% of instruction involved math subjects.
YBPCS' tutor volunteers are able to establish a consistent relationship with their student tutees as they come on to campus for tutoring sessions once to twice a week. Students enjoy this one-on-one time with their tutors because it provides a different type of learning environment than the traditional classroom setting.

YBPCS plans to keep expanding the tutoring program, and if any readers are interested in volunteering as a tutor or career coach feel free to refer to our volunteer page linked here.
YBPCS Students Making a Tangible Difference within the DC Community
Written by Brittany North | February 13, 2019
YouthBuild DC PCS is special because we not only support students on the path to earning their GED, but also towards gaining a meaningful career after they leave the halls of YBPCS. YBPCS focuses on the high-demand construction field, providing hands-on training to students to earn essential industry certifications such as OSHA and HBI.
In addition to advancing our students' career development, our construction projects help low-income DC residents rebuild their homes that they may of otherwise not have been able to do without YBPCS' help. Since December 2018, students have been working on an apartment on Park Road in Washington, DC. This particular site is being completed in partnership with the Brothers of Charity, a nonprofit that focuses on education and providing care for children, adolescents, and adults. After the site is complete, it will be used as transitional housing for individuals in need within the DC community. As of now, students are working hard to caulk walls, reinforce windows, and paint the walls and ceilings. YBPCS will be finished with this project late February 2019.
When speaking to the students about their experience on the construction site, student Lamar Fosque reflected that his experience was more than just learning actual construction skills. He explained, "The most important thing I have learned on site is that if you stay focused, on track, and are diligent, any job can get done."
Students and construction staff are excited to see the project on Park Road come together, and they recognize the importance of the work within the DC community. Construction Instructor John Bonner shared how impressed he is with the students' work and how the YBPCS team has come together to make a difference within the DC community.
The Revival of YBPCS' AmeriCorps State and National Program
Written by Brittany North | November 28, 2018
YBPCS' AmeriCorps State and National program has started the year off in full swing! With the hiring of new Transitions Specialist, Kate Salasky, YBPCS has recruited many new members for the AmeriCorps State and National program. This AmeriCorps opportunity offers $1,290 in scholarship funds for college and/or vocational programs to students who participate in at least 300 hours of community service. Students serve their community not only through ongoing construction projects to renovate low-income housing, but also through programs to feed the homeless, clean-up local parks, and more.
Ms. Salasky believes in the importance of fostering drive to serve the public in the next generation. She also believes that YBPCS' AmeriCorps program is an amazing opportunity for all who are looking to pursue post-secondary education and to build their resumes for future job applications. With the help of Brittany North, YBPCS' AmeriCorps VISTA, she plans to set up 3 to 4 monthly community service projects for YBPCS' AmeriCorps members, such as the amazing opportunity to build a playground in DC partnering with the nonprofit Kaboom.
Ivory Gigger, a YBPCS student and two year AmeriCorps State and National program member, says that his favorite part about being involved in AmeriCorps is that it connects him with opportunities to help his community. His favorite type of service project are the adopted park cleanups, "The adopted park is a convenient way to give back to the community, and I love seeing people enjoy the park after we finish our cleanups."
YBPCS' AmeriCorps State and National program helps our students stay connected to their community as well as earn funds for a brighter future. By the end of 2018, YBPCS will have almost 40 AmeriCorps members.
YBPCS Adopts National Park to Give Back to the DC Community
Written by Brittany North | October 19, 2018
YouthBuild students and staff partaking in an adopted park cleanup.
Starting in the summer of 2017, YBPCS partnered with the National Park Service and adopted the James Cardinal Gibbons Park across the street from campus! YBPCS' adopted park is a part of Rock Creek National Park, one of the largest national parks in the city.
Every two weeks, YBPCS staff and students serve their community by participating in an adopted park cleanup. During these park cleanups, students and staff can be seen raking leaves, picking up trash, and pulling weeds. Community members are also welcome to these community service projects!
YBPCS believes that community service is extremely important to our students' personal development as it creates a sense of ownership and belonging in their community.
If you would like more information on YBPCS' next adopted park cleanup, contact YBPCS' AmeriCorps VISTA at 202-567-2474.
(L-R): Youthbuild USA CEO John Valverde, current YouthBuild PCS student Levi Moorman, YouthBuild PCS 2017 Graduate Heaven Rice, YouthBuild PCS 2016 Graduate Yolanda Torres
A Student Finds Success AT YOUTHBUILD PCS
"It only took that one 'yes'", Yolanda Torres told the power players assembled in the conference room on the top floor of an office building overlooking Lafayette Square and the White House. Yolanda was advocating for her alma mater, YouthBuild PCS, at a fundraiser for Youthbuild USA. "I needed a second chance to get my education. I needed a chance to make a better life for myself and my family. I needed the opportunity. It only took that one 'yes,' and YouthBuild PCS was that 'yes.'"

Yolanda was one of twelve GED grads in the Spring of 2016. After graduation, Yolanda continued to serve YouthBuild PCS as an Americorps VISTA and as a member of its board of trustees. In the Spring of 2017, YouthBuild PCS was proud to congratulate seventeen GED graduates, and Yolanda had the privilege of presenting the graduates with their GED diplomas. When her VISTA year concluded, Yolanda Torres went to work for Catholic Charities, where she currently serves as an administrative assistant in the Homeless and Housing Services Division.

This year, YouthBuild PCS was rated a top-performing Tier 1 school on the 2017 School Quality Report.
A Student Finds Success at YouthBuild PCS. (2017, November 30). DC Public Charter Schools Now.